FACTORY SITZENDORF (SITZENDORF)
FACTORY SITZENDORF (SITZENDORF)
     In 1845, Liebermann founded a porcelain factory in the Thuringian town of Sitzendorf, which in 1850 passed to the Voight brothers. At the end of the 19th century, the company of the Voight brothers became a joint-stock company, and in 1953 the factory was nationalized.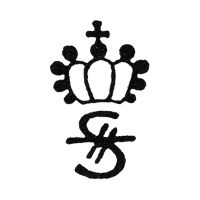 The basis of the production was a sculpture made in the Meissen style - individual figures and groups. The Figures of dancers and the composition "Orchestra of Frogs" are especially famous. The sculpture was produced both in bisque and covered with highly artistic painting.
     In addition to sculpture, decorative porcelain, vases, and candlesticks were made in Sitzendorf. Factory products were awarded gold medals at exhibitions in Erfurt (1894) and Turin (1911).
     The products of the factory were widely exported to other countries.
     Marking of the Sitzendorf porcelain factory.    
| | |
| --- | --- |
| | Used between 1884 and 1902. Blue underglazed. |
| | Used between 1900 and 1902. One of the parallel lines is shorter than the other. |
| | Underglaze blue markings were used from 1902 to 1918. |
| | The marking was used from 1918 to 1972. Blue underglaze. |